Interested in being a sponsor?  Included on the website for 1 year, newsletter and emails: Click Here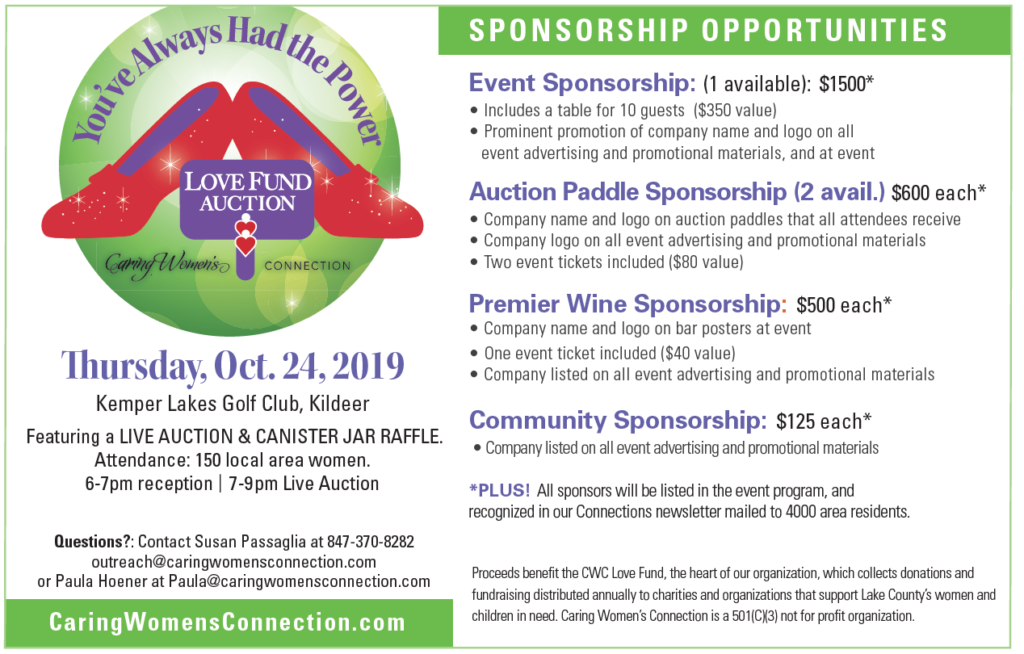 Thank you to our Sponsors:


Paddle Sponsor:
Community Sponsors:
Casten Body Shop
JAM
Renee Clark Real Estate
Call Me Social Butterfly, Chris Geimer Design, Edward Jones/ Erica Gunther,
Fifth Third Bank/Lake Zurich,Paula Hoerner/ Arbonne International Independent Consultant,
House of Betty Jane, Lake Zurich Travel,
Touching Sky Meditation/ Susan Short, Tupperware/ Rosemarie Fagan
Thank you for registering!  We are SO EXCITED for Thursday nights LIVE AUCTION!
Here's the FAQ's:
Dress is business casual – be comfortable and fun!  Dressier than jeans, but no dresses required.
Please use banquet entrance at Kemper (door to the right of the main entrance)
We are expecting 150 women, please allow enough time to arrive and register

Please  make your FIRST stop at the registration table to pick up your Auction paddle and DRINK TICKET (2 if  you are a CWC member)

During the Preview time from 6:00-7:00pm you be able to look play the games below and through the live auction items and pick out your favorites while enjoying appetizers and drinks.
There will be drink ticket(s)  good for a wine or beer and hors-d'oeuvres, cash bar for other beverages. CWC Members will receive 2 drink tickets, guests will receive 1.
Lollipops for Thanksgiving Dinners– with a donation of $20 for a family to receive a portion of their Thanksgiving dinner, you will receive a lollipop
Raffles open at 6pm.  Tickets are 1 for $5, 5 for $20.

The live auction will start promptly at 7:00pm and we plan to end at 9:00pm.

There will be small dessert plate served around 8:15pm and a coffee station will be provided.

Didn't win any of your bids and want to help our cause?  Donations accepted at check out
Check-out will be fast and easy with several stations to get you settled up and out the door with your winnings!
Please bring checks/ cash to expedite your checkout- Credit cards also accepted, processing may take a little longer.
Please forward to people at your table or friends attending.